Applicaton and Solutions
Window films are used to improve existing glazing systems by reducing excessive solar heat gain, cutting out solar glare, reducing fading on upholstery and fabrics and provide one way vision privacy.
Studies have shown that variations from 20-23C in workplace temperature have a considerable effect on productivity and quality. Solar film helps by reducing solar heat gain, maintaining a more stable and comfortable environment.
As much as 90 per cent of all fading is caused by solar energy, of which ultra-violet light causes 40 per cent, visible light 25 per cent and solar heat 25 per cent.
Solar film slows down this effect by as much as a half. In other words, it doubles the life of fabric or furnishing.
Solar, Frosted & DDA Options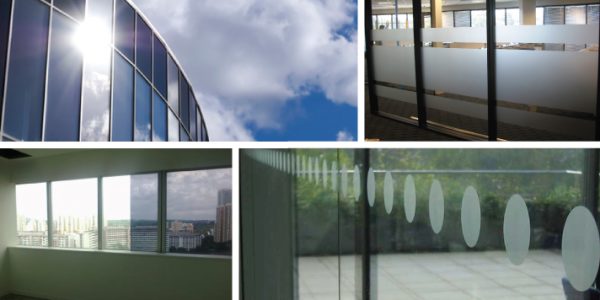 As well as our range of architectural window films we also supply and install bespoke frosted glass manifestations.
Health and safety legislation stipulates that all commercial buildings with full height glass must have some form of manifestation on the glass for public and employees' safety. This is usually in the form of two rows of dots or squares at different levels (Between 850mm and 1000mm high from finished floor level and the higher between 1400mm and 1600mm)
The manifestation can be used to provide privacy, safety, decoration or a mixture of all three. Frosted film has moved on from a simple strip, circle or square to include corporate logos or designs.
Window film ensures damaged windows stay in place and can hold dangerous shards together, keeping people safer.
It also has the benefits for security. It creates an invisible barrier to your building that can mitigate against damage from a bomb blast or other explosions.
CALL US ON 0191 265 5353