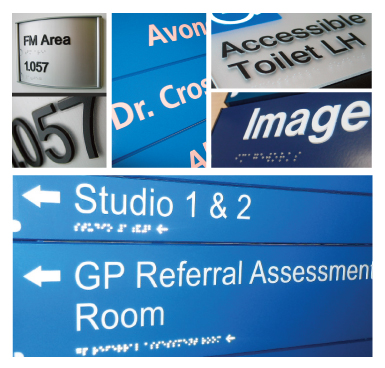 Braille and tactile signage – The Disability Discrimination Act 1995 (DDA)
The Disability Discrimination Act 1995 (DDA), now part of The Equality Act 2010, is legislation that gives disabled persons rights in areas such as access to goods, facilities and services. It is now required that all service providers make reasonable adjustments to the physical features of their premises to overcome any physical barriers to access. This includes making alterations to public, commercial, government and residential buildings.
One recommendation is the provision of signage for persons with a visual impairment. Here at Imageworks we provide braille and tactile signage to the construction, facilities and service provider industries which is compliant with the DDA.
Imageworks can work with you or your architect, interior fit-out contractor or your design team to ensure the best quality directional signs solution for your facility. Alternatively we can design your sign requirements from scratch and carry out installation anywhere in the UK.
Our signs are manufactured in a wide range of materials to your exact specification and can include braille, tactile and pictogram elements. We can also incorporate braille and tactile into wall-mounted or free-standing modular Slatz® Sign Systems which are ideal as wayfinding directories.
Below are some of the areas where braille and tactile signage is recommended.
Building entrances and exits
Routes to and around buildings
Information on services available to the disabled
Directions to facilities – lifts, toilets etc.
Emergency exit routes
Enhancement of general information signage
Please contact us and see how we can help with your Braille and Tactile signage requirements today.