Embroidered garments are ideal for a number of purposes, the most popular of which being used by employers to give their workforce a strong identity and help to promote their brand. We think this technique is more durable for labour and heavy washing, making it a great choice for work uniform.
With this technique when adding a logo to your garment via embroidery, a metal frame is placed onto the garment and backing fabric is applied to the logo area. This ensures that the garment is secure while the logo is stitched. Occasionally, this process may leave a mark on the garment but is nothing that can't be easily rubbed or washed off.
The actual embroidery process is carried out by a computerised embroidery machine. Your logo is digitised by our design team and submitted to the embroidery machines, with the process beginning once additional instructions like the colour of the threads have also been submitted. We use only the best threads and embroidery machines to guarantee the highest quality result.
In terms of suitability, embroidery tends to work the best on polo shirts, business shirts/blouses, aprons/tabards, jackets & headwear.
See some examples below of our embroidery for workwear. Or go to our order form to get your embroidered garments ready today!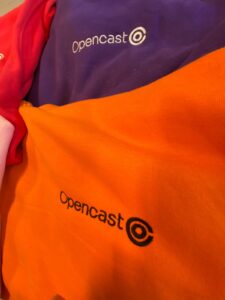 Opencast embroidery